Coastal Medical Imaging is a prominent Imaging Center in Currimundi, Sunshine Coast, Queensland, Australia (close to Brisbane). Sean O'Connor, MD, the Director of Coastal Medical Imaging, in agreement with the leading politicians of Queensland, asked Dr. Tabár to give his name to the Women's Imaging Center section of the Coastal Medical Imaging.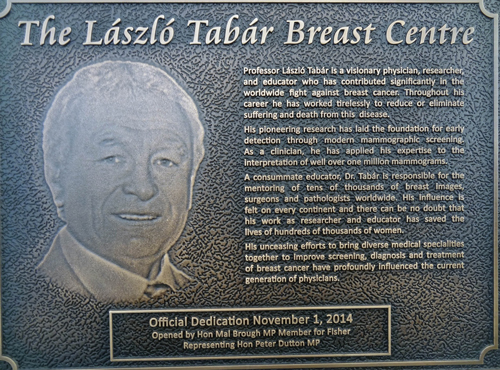 Because he has been familiar with the excellent, high quality service provided by the Coastal Medical Imaging for the women in the community during the past 14 years, Dr. Tabár gratefully accepted the invitation and honor.
The dedication of the Breast Center took place on November 1, 2014 in Queensland, Australia. Now named "The László Tabár Breast Centre", Coastal Medical Imaging now pays tribute to Dr. Tabár's pioneering research, which laid the foundation for early detection through modern mammographic screening.
On hand for the dedication were (from left to right) Mr. Jarrod Bliejie, Attorney General for Queensland, Dr. Tabár, Sean O'Connor, MD, the director of Coastal Medical Imaging, and Mr. Mal Brough, representing the Federal Minister for Health.